Unlike previous reports, this time we are talking about falls in the prices of all vegetable oils and fats in the last month %, although today the market is recovering positions after yesterday's significant drop.
The Brazilian and US markets have announced changes in the mandates for biofuels incorporation, which has added downward pressure to the markets. Laurics, coconut and palm have fallen sharply in the last month, after several months of very significant rises.
Energy commodities have also fallen in the last month.

Laurics, coconut and palm have fallen sharply in the last month, after several months of very significant rises as seen in this graph: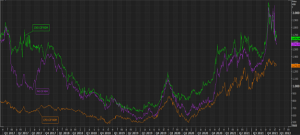 Once again, Malaysia's full-month CPO production fell much more than expected, dropping by 5.2% (1.63 Mts, million tonnes) in November, according to MPOB. Due to modest export growth, ending stocks remained at 1.8 Mts, 1% below the previous month and in line with market expectations. Total production in 2021 will be the lowest in 5 years. The situation for Dec-21 + Q1-22 will remain tight.

As far as sunflower is concerned, world production of sunflower seeds in the 21/22 season is estimated at just over 57 Mts (+7 Mts vs 20/21). Ukraine has had better than expected production. In Argentina, crop conditions have improved, but are still worse than last year. Despite this, crushing in September/November 2021 has been below last year due to the low rate of sales at origin. Prices have therefore remained very high, although the market expects some easing from February/March onwards.

The world rapeseed reduction this season 21/22 is at a 13-year low. In Canada the rapeseed crop was only 13.4 Mts or less (oil content is approx. 40 %), with a drop of around 7 Mts due to this year's drought. Harvests also lower than expected in Europe, China and the USA. Australia will have a record crop of approx. 5.7 tonnes of seed.
European farmers have already reacted by increasing the winter rapeseed area to a multi-year high. A significant expansion of rapeseed plantings is also expected in Canada. However, the impact on prices this season will be limited, because we expect a shortage during April/June 2022. This puts additional pressure on sunflower and high oleic sunflower as alternatives to very expensive canola.

In order to better understand the dynamics of these and other vegetable oils, we invite you to download and continue reading LIPSA's market report below, where you can get first-hand information on:

1.Evolution of reference markets
2.External
3.Balance of the main oils
4.Palm oil
5.Sunflower and high oleic sunflower oil
6.Rapeseed oil
7.Soybean oil